Navigating Planning a Wedding and a Pandemic
"We agreed that for us, regardless of the state of the world, we didn't want to wait to start our lives together"
"As COVID started hitting in mid-March (2020) our carefully planned wedding was falling apart right before our eyes. It was so heartbreaking to have to face disappointment after disappointment in what was supposed to be the "fun" countdown period to the wedding. Countless things from having to navigate how to obtain a wedding license after the City Clerk's Office closed, to having my beautiful wedding gown locked away in a closed seamstress' shop, to the Canadian boarder closing and separating us from Simon's friends and family in Montreal. We ended up un-planning the original wedding, replanning our elopement in place, and then re-planning our "We-Do Re-Do" for 2021 - that's THREE weddings that we planned in total."
Photos by: Kenny Pang Photography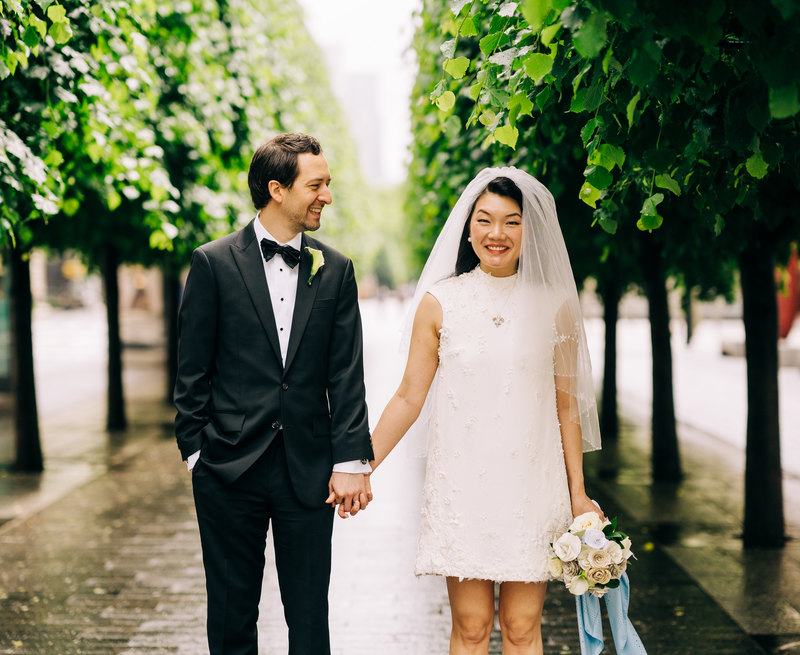 How We Support Each Other
"I joke (but really it's out of pride) when I say that Simon was raised in a matriarchy. His family is comprised of sharp, accomplished, take charge, educated women (mother, sister, aunts, and cousins). I tell my friends that I've found my 'tribe' when I describe them."
"Although he's too modest to ever use the term, he is 100% a feminist. I think it may be his French-Canadian upbringing, but in every sense of the word he is my partner and values my career and my work as much as his own. We both make an equal effort to support each other professionally, especially as we navigate working from home. I tend to work later hours than he does, so he takes on cooking and makes dinner and often brings me lunch when I'm still camped out in front of my computer. (Even as I write this he just snuck in and quietly brought me a glass of wine). We talk about our careers with each other frequently, both the day to day updates, as well as what our five to ten year plan looks like. We're both fully committed and transparent about taking the necessary steps, and realigning what is necessary, to fully support the other. He's my biggest cheerleader, one of my best sounding boards, and I probably would have been living on cereal during the pandemic without him..."